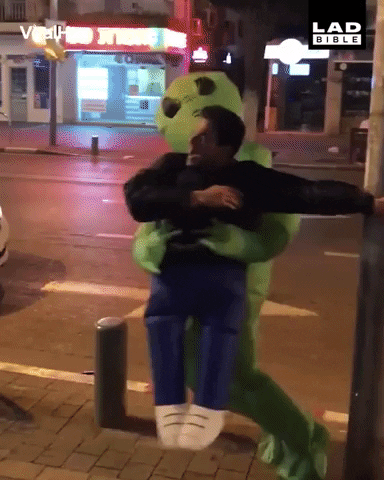 From Halloween parties to Science-Fiction conventions, having a stand-out costume is a must. While traditional costumes may be fine and cosplaying characters is also an interesting conversation-starter, the Green Alien Carrying Human Costume is a quirky, funny, and creative costume that's sure to be the center of attention.


Why the Green Alien Carrying Human Costume?
The tall inflatable costume won't let you fade in the cloud. The funny costume plays out an alien-abduction scenario with you as the victim! Its inflatable with a built-in fan to keep you comfortable while keeping the costume standing.
100% Polyester

PERFECT FOR PARTIES: Alien Inflatable costumes are perfect for Halloween and parties, people will spot you a mile away.

SIZES THAT FIT: One size fits most. Apparel Includes Inflatable Costume with Built in Air Pump (Batteries x 4 AA Not Included). Step into the costume, do the zip up, switch the fan on, wait a minute and you're ready to go.

HIGH QUALITY INFLATABLE COSTUME: Our high quality material means re-enforced stitching at stress points to make sure this Blow Up Costume lasts more than one wear. Our elasticated openings ensure this costume stays inflated and no air escapes! Fan run time approx 4 hours.
Frequently Asked Questions
Who can wear this?
It's a unisex costume that will fit adults between 4.9 to 6.5 feet.
How to wear this costume?
Open and place 4 AA batteries (not included). Attach the hole into the hole ring in the costume and plug it with the battery pack. Put the battery pack in your pocket and wear the costume. Switch the fan on to inflate the costume. It fully inflates in 90 seconds.
Is it comfortable to wear?
The material is made of 100% waterproof polyester that's made durable and comfortable. The fan keeps the inside of the costume ventilated.